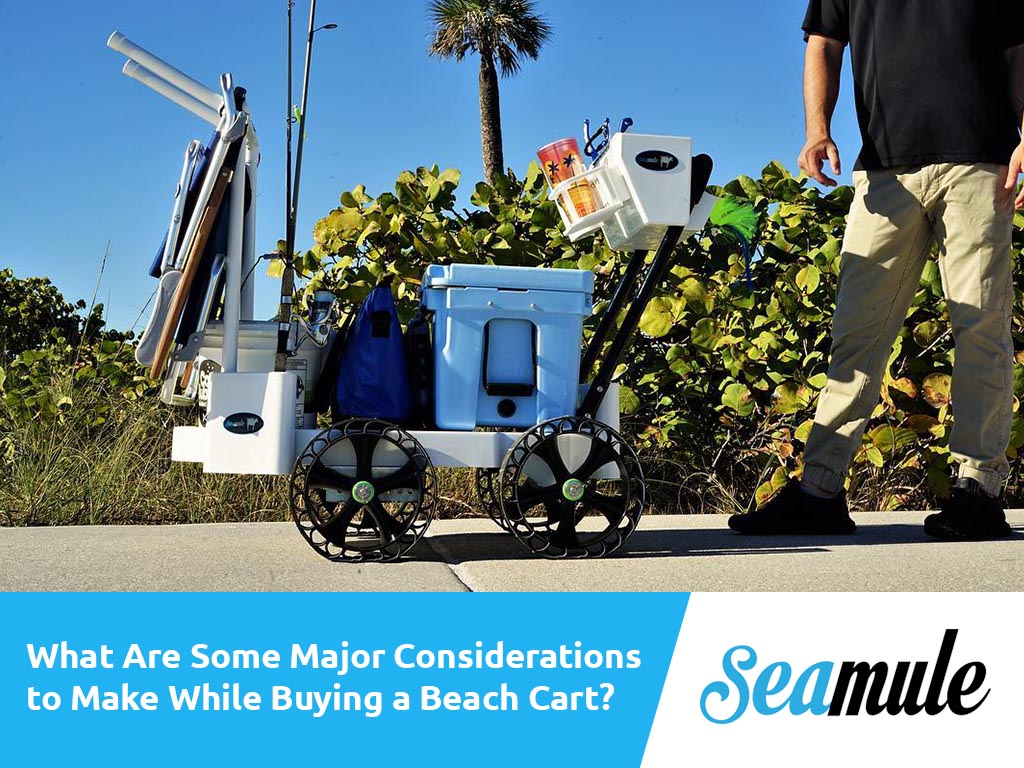 What Are Some Major Considerations To Make While Buying A Beach Cart?
| Cayman Ellis
The sun is shining, the skies are clear. What better way to spend a day off than heading down to the beach? While beach days are wonderful, there can be a degree of stress involved in getting from A to B, especially if you have children and a lot of gear to carry. If you find that getting out of the door and setting up camp for the day has become something of a logistical operation, it may be time to shop around and invest in a beach cart.
Considerations for Buying a Beach Cart
Beach carts can make a huge difference if you find that it's virtually impossible to get to the beach and start enjoying the sunshine without spending hours packing the car or walking to and from the parking lot laden with buckets and shovels, surfboards, fishing gear, towels, and drinks. A beach cart saves valuable time, enabling you to save your muscles and make the process of getting settled at the beach much less stressful. If you like the sound of a beach fishing cart, or you're looking for a simple way of transporting everything you need for a great family day out, here are some of the major considerations to bear in mind when buying beach carts.
Portability: The whole idea of a cart is to make life easier when you want to take coolers, toys or fishing equipment with you to the beach. Portability is key. You don't want to fill your cart and then find that you can't actually get to the spot you've chosen without it being a mission worthy of a strong-man competition. Look for wagons that are easy to carry, as well as push or pull. It's particularly important to bear portability in mind if you plan to take your cart in the car and then fill it up when you get to the coast. In this case, choosing a collapsible model is a great idea.
Weight: Weight is an important consideration because you don't want to find that you can't use your beach cart because it's too heavy. If the cart is already heavy or awkward without anything in it, it may be wise to look for a more compact model that will be easier to move around before and after you've filled it with everything you need for your day out.
Longevity: When you're shopping around for a beach wagon, think about how often you're going to use it, and how long you'd like to keep it. If you don't live near the sea, and you're buying for short-term use for a vacation, it makes sense to pay less for a beach cart that might not be designed to last for years. If you go to the beach often or you plan fishing trips on a regular basis, it's beneficial to invest in a product that will stand the test of time.
Cost: The cost of beach carts varies hugely. Think about what you want from your beach cart, set a budget, and compare prices online. Cheap beach carts typically only last a season or two and do not work well in soft sand. If you're on the hunt for a more advanced, functional cart with wheels that work on soft sand and any terrain, you should be prepared to pay more.
Terrain: It's always a good idea to consider the terrain you're going to be tackling with your new beach cart before making a decision. If you've got to cross dunes, you're covering soft sand or the sand is particularly deep or heavy, look for a rugged, robust cart with wheels that are designed for soft sand.
Functionality: Every buyer is different, and you may have different requirements for another consumer shopping for a beach cart. Consider how you plan to use your beach wagon while exploring the options. If you're a keen angler, for example, you may want a cart that has pockets for bait buckets, a tackle box, a cutting board and space for surf rods, inshore rods, and the rest of your fishing gear. If you have children, you might be more interested in having an umbrella holder and ample space for beach chairs. Narrow down your options based on what you want to carry and how you plan to spend your time at the beach, some carts can do it all.
The Benefits of Buying a New Beach Cart
Whether you spend every available second at the beach, or you love nothing more than to take a vacation by the sea a couple of times a year, investing in a beach cart is a great idea. Beach carts make it easy to carry items like fishing rods, coolers, and beach toys, saving you multiple trips between the parking lot and the shore and enabling you to make the most of the time you have at the water. As well as minimizing stress related to the logistics of planning a day at the beach and facilitating easy transport, a beach cart can also provide useful storage while you're out fishing or you're basking in the sun or splashing around in the water. Beach carts are versatile, and they can benefit anyone who enjoys surfing, water sports, fishing or spending quality time at the beach with friends and family.
Conclusion
If you find it difficult to enjoy a day at the beach or to arrange a fishing trip without devoting hours to unloading the car or traipsing across parking lots and stretches of sand, a beach cart could be the best thing you've ever bought. If you're thinking of buying a beach wagon, or you're looking at fishing carts, consider the price, the portability, the size and weight and the range of features, and make a decision based on your individual requirements and preferences. It's always wise to read reviews and to think about how you're going to use your cart and to pick a brand that stands behind their product. Once you've made your decision, you should find that your next trip to the beach is a breeze!